Hey everybody! So it's finally the Holiday season, which means it's time to start buying your gifts! I know sometimes this time of the year can be stressful for many reasons. One of those reasons is usually not knowing what to buy! For the occasion, I'm going to be doing a
Holiday Gift Guide series
where I'll be giving you guys ideas on what to buy for the special people in your life!
The series will consist of:
1.) Holiday Makeup Palettes and Gift Sets
2.) Perfume/Cologne Gift Sets
3.) Boyfriend/Husband Gifts
4.) Stocking Stuffers
*I also might do an "Electronics" gift guide, if you guys would want that! (Leave a comment if you do!)
Today's Gift Guide post, is going to be on this year's Holiday Makeup Palettes and Gift Sets. I have 11 options to show you and all can be found at all Sephora stores (some may not be at Sephora inside JCPenny) and on
Sephora.com
.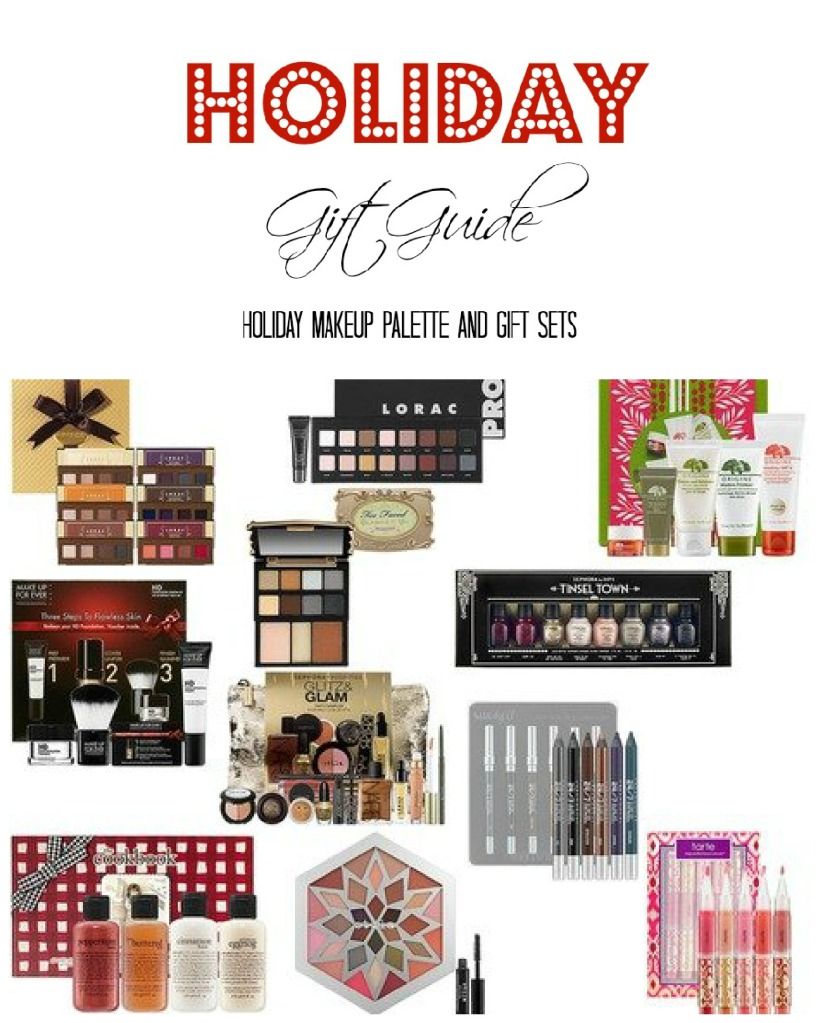 1.)
Lorac Eye Candy Full Face Palette
($59.00)
Contains:
- 4 x 0.68 oz Eye Shadow Palette in Ooh La La Vanilla (Nude Eye Shadow Palette), Caramel Love Affair (Golden Eye Shadow Palette), Tantilizing Cocoa (Bronze Eye Shadow Palette), Blackberry Truffle Seduction (Smoky Eye Shadow Palette)
- 0.17 oz Cream Eye Liner Palette in Mesmerizing Dark Chocolate
- 0.17 oz Cheek & Lip Tint Palette in Indulge in Berry Kisses
2.)
Too Faced Glamour To Go Sugar Spun Edition
($22.00)
Contains:
- 8 x 0.24 oz Eye Shadow
- 0.076 oz Highlighter
- 0.026 oz Lip Gloss
- 0.076 oz Bronzer
3.)
Origins Skincare Must Haves
($55.00)
Contains:
- 0.5 oz Plantscription™ Anti-Aging Serum
- 0.17 oz GinZing™ Refreshing Eye Cream
- 1 oz Checks and Balances™ Frothy Face Wash
- 1 oz Modern Friction™ Nature's Gentle Dermabrasion
- 1.7 oz VitaZing™ SPF 15 Energy-Boosting Moisturizer
4.) Make Up For Ever HD Complexion Holiday Starter Kit

($79.00)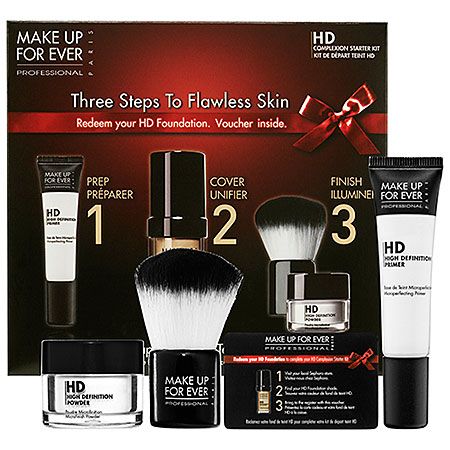 Contains:
- 0.17 oz HD Microfinish Powder
- HD Kabuki Brush
- 0.5 oz HD Microperfecting Primer
- Voucher for in-store redemption of a 1.01 oz HD Invisible Cover Foundation
5.)
Lorac Pro Palette
($42.00)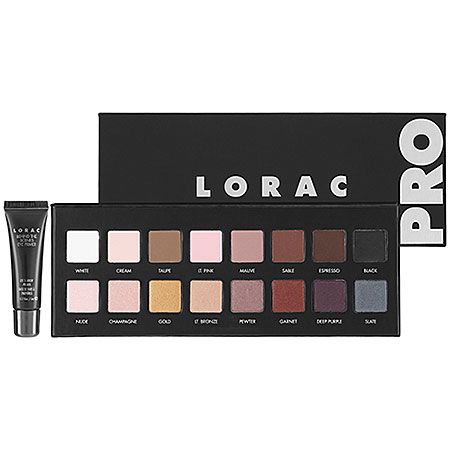 Contains:
- 0.17 oz Mini Behind the Scenes Eye Shadow Primer
-0.32 oz PRO Eye Shadow Palette:
Top row, matte colors: White, Cream, Taupe, Light Pink, Mauve, Sable, Espresso, Black;
Bottom row: Nude (Shimmer), Champagne (Sparkle), Gold (Shimmer), Lt. Bronze (Shimmer), Pewter (Shimmer), Garnet (Shimmer), Deep Purple (Shimmer), Slate (Shimmer)
6.)
Sephora Tinsel Town Eight Piece Nail Polish Set
($29.50)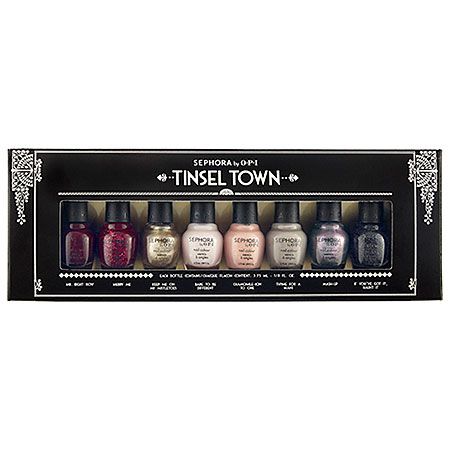 Contains:
8 x 0.125 oz Nail Colour in:
- Mr. Right Now (opaque classic wine)
- Merry Me (opaque red with micro red glitter)
- Keep Me On My Mistletoes (opaque champagne gold with fine glitter)
- Bare To Be Different (sheer warm ecru)
- Chamomile-ion to One (sheer pink beige with fine gold glitter)
- Thyme For a Mani (opaque light khaki)
- Mash-Up (opaque metallic green purple duo chrome)
- If You've Got It , Haunt It (opaque black with chunky glitter)
7.)
Sephora Glitz and Glam Party Sampler
($45.00)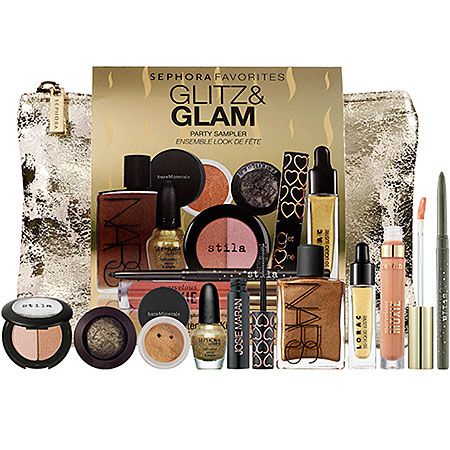 Contains:
- 0.09 oz Stila Duo Shimmer Powder in Kitten
- 0.018 oz Laura Mercier Baked Eye Color - Wet/Dry in Black Karat
- 0.02 oz bareMinerals Eyecolor in Good Fortune
- 0.125 oz SEPHORA by OPI Nail Colour in Looks Like Rain Dear
- 0.11 oz Josie Maran GOGO Instant Natural Volume Argan Mascara in Black
- 1 oz Nars Body Glow
- 0.17 oz Lorac 3D Liquid Lustre Gold
- 0.15 oz Bare Escentuals Marvelous Moxie Lipgloss in Trail Blazer
- 0.01 oz Stila Smudge Stick Waterproof Eye Liner in Starfish
8.)
Urban Decay Smoked 24/7 Glide-On Eye Pencil Set
($38.00)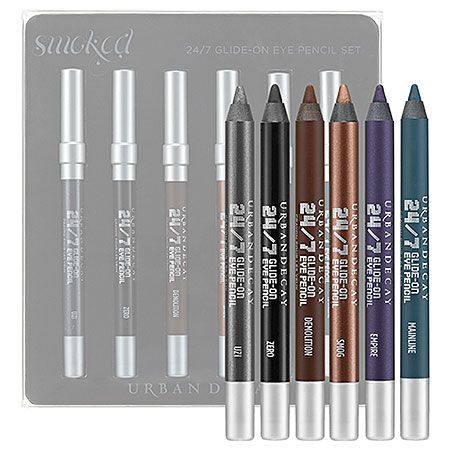 Contains:
6 x 0.03 oz Eyeshadows in:
-Smog (copper)
-Mainline (dark green/blue matte)
-Uzi (gunmetal taupe w/silver micro-glitter)
-Empire (dark eggplant satin)
-Zero (zealous black)
-Demolition (deep brown matte)
9.) Philosophy The Cookbook Set ($24.00)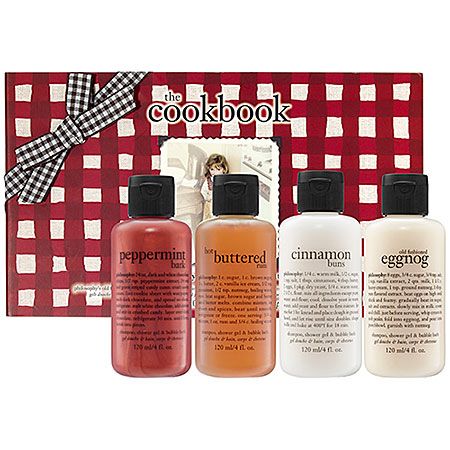 Contains:
4 x 4 oz Shampoo, Shower Gel & Bubble Bath in:
- Cinnamon Buns
- Peppermint Bark
- Hot Buttered Rum
- Old Fashioned Eggnog
10.)
Stila Snow Angel Color Palette & Stay All Day Waterproof Volumizing Mascara
($42.00)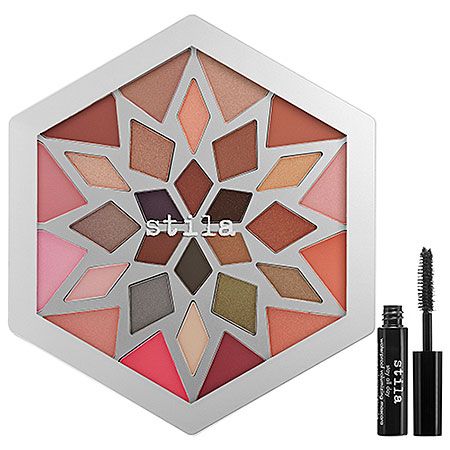 Contains:
- 18 x 0.64 oz Eye Shadow in Peace, Love, Gold, Sleigh, Cookie, Dashing, Eggnog, Icicle, Dance, Merry, Kitten, Jingle, Gingerbread, Truffle, Chestnut, Cool, Clove, Fairy
- 12 x 0.67 oz Cheek Color in Shimmery Snow Angel, Matte Bronze, Shimmery Coral, Matte Clay, Shimmery Apricot, Matte Berry, Matte Melon, Shimmery Peach, Shimmery Pink, Matte Pink, Matte Plum, Shimmery Plum
- 0.1 oz Stay All Day™ Waterproof Volumizing Mascara
- 12-page artistry look book
11.)
Tarte Girl Meets Gloss 5-Piece Maracuja Gloss Collector's Set
($36.00)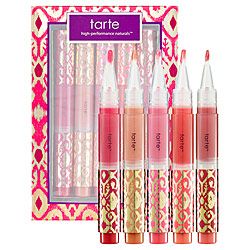 Contains:
5 x 0.11 oz Maracuja Divine Shine Lip Glosses in:
-Bubbly (sheer rose)
-Curious (sheer petal)
-Preppy (bubble-gum pink)
-Chic (watermelon berry)
-Sparks (cotton candy)
Will you be purchasing any of these palettes this year? Know of any other Holiday makeup palettes or gift sets? Let us know!