Hey guys! I hope you all had a fun and safe Halloween! I just wanted to show you what I dressed up as this Halloween. Last year, I had to work and didn't get to dress up at all so I was super excited to do so this year! I knew I wanted to be something zombie-esque, so I went with a zombie pin-up girl. I had never tried this prior to doing this for Halloween, or else I probably would have filmed a tutorial, but I think it went pretty well for my first time, so I wanted to share it with you all!
I will also try to mention the products I use, as best as I can remember! (see list below)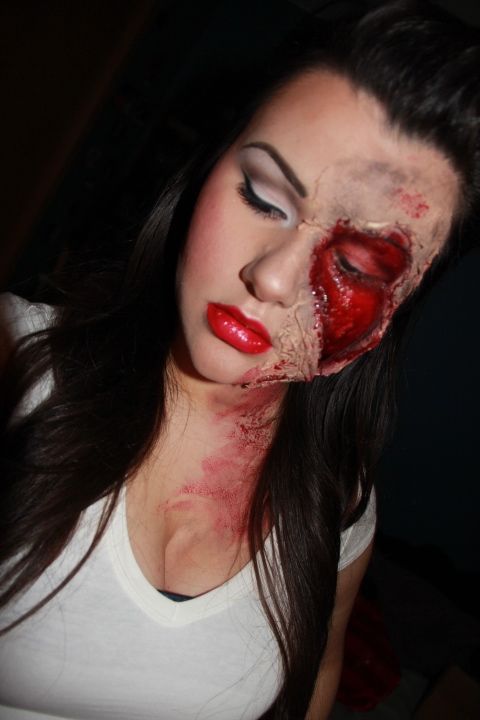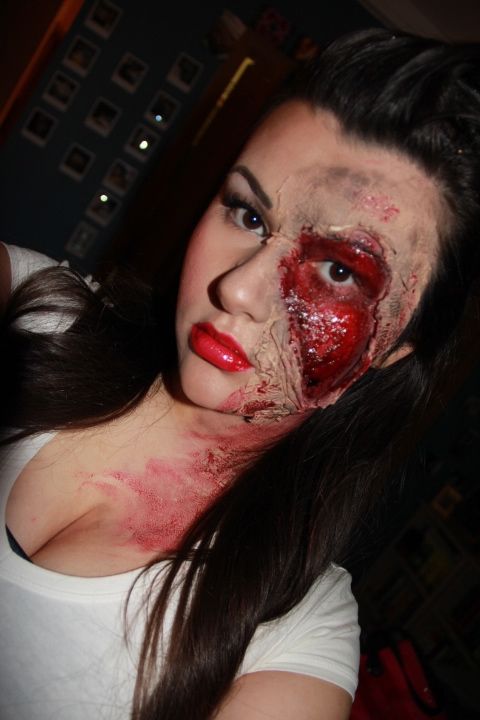 PRODUCTS USED:
Zombie Side:
Liquid Latex (generic halloween store brand)
Tissue
MAC Mystery
MAC Sketch
MAC Memorabilia
Revlon Colorstay Whipped Foundation
NYX Dark Brown Jumbo Eye Pencil
BH Cosmetics Red Eyeshadow
Pin-Up Side:
Revlon Colorstay Whipped Makeup
DermaBlend Smooth Indulgence Concealer
Laura Mercier Translucent Setting Powder
NYC Sunny Bronzer
NYX Pinky Blush
MAC Soft and Gentle MSF
MAC Painterly Paint Pot
Inglot Matte 318
MAC Cork e/s
MAC Kid e/s
MAC Mystery e/s
Wet N Wild Brulee
Essence Gel Eyeliner in Midnight in Paris
Loreal Telescopic Mascara
Maybelline The Falsies Mascara
Random Individual Lashes
ELF Red Carpet Lip Stain
Pixi Lip Booster Lip Gloss Zuzana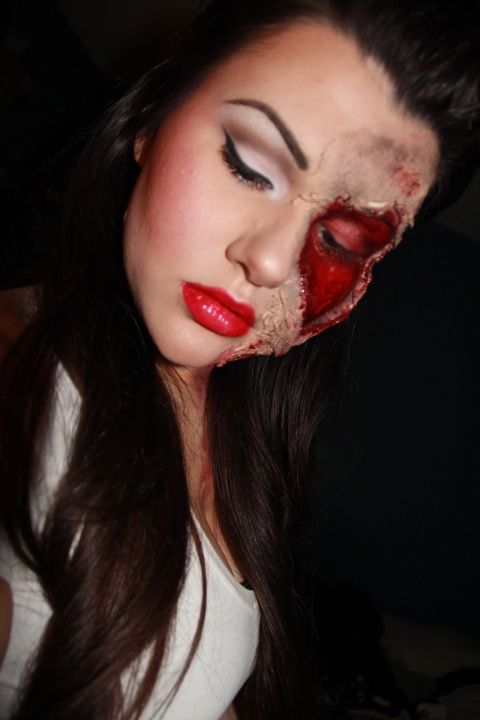 I loved it. I got a lot of complements on it and I did NOT want to wash it off. I just wanted to be a zombie pin up girl forever! I even had a couple of trick-or-treat-ers think it was a mask, hehe ;) I absolutely love Halloween, but it makes me miss being a kid again! I don't know about you guys, but I trick-or-treated until I was a junior in High School. I really juiced my childhood for all it was worth lol.
What were you for Halloween? If you have any photos, feel free to link them below :)