If you're a hardcore makeup addict, I'm sure you've heard of
MAC Vanilla Pigment
. It's a must-have, a necessity, an amazing product. If you own this bad boy, you already know how amazing it is. But for those of you who have not had the opportunity to own it yourself or even to swatch it, I'm here to let you know just how amazing it truly is. Not only is MAC Vanilla Pigment the most beautiful shade of golden yellow you've ever laid your eyes on, but it can be used in so many different ways! Because of it's multifunctional purpose, this is a must have in everyone's makeup collection.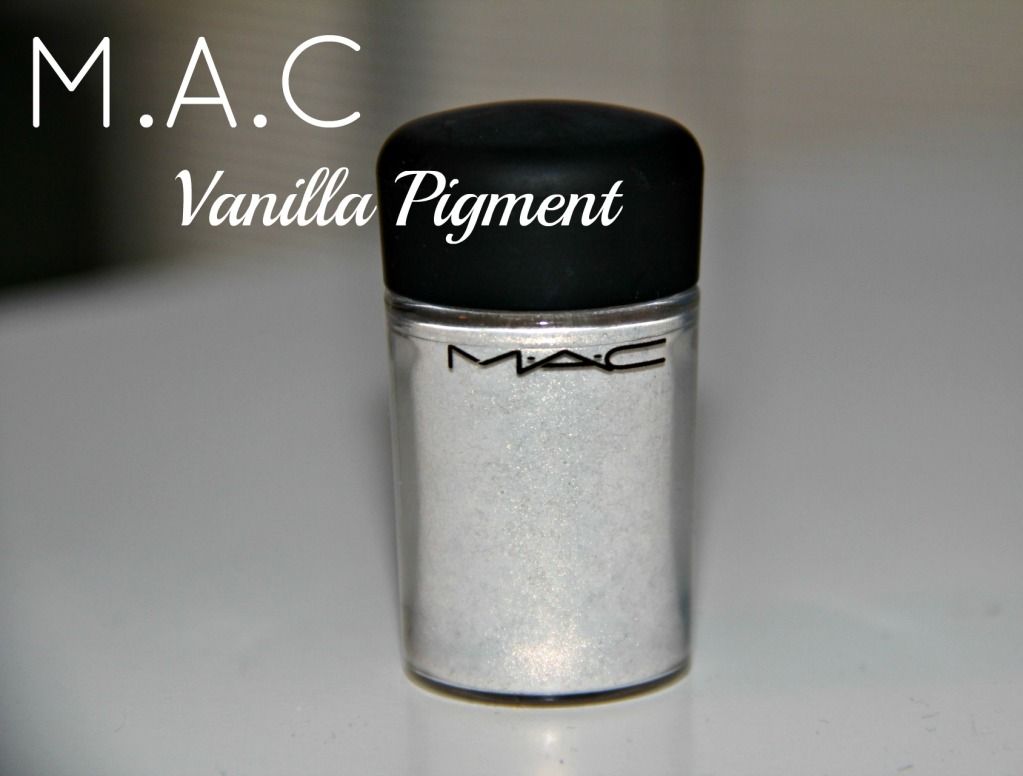 On the MAC Cosmetics website, Pigments are described as:
"
Pigment is a highly concentrated loose colour powder that contains ingredients to help it adhere to the skin. Create a subtle wash of colour or an intense effect. Does not streak or cake. Easy to blend and long-lasting. Please note: Pigments are sold by weight not volume. Containers can appear to be less than full due to settling of the product."
MAC Pigments used to be sold in different packaging, which contained WAY more product. For whatever reason, pigments now come in a slimmer bottle containing
4.5 g / 0.15 oz of product.
They retail for $20.00 US.
MAC Vanilla Pigment is described as a Soft Ivory White and is a Frost Finish.
Now let's get down to business...
Pigments can be used for many things. The main use, as you can probably guess, is for eyeshadow. Pigments can be used wet or dry for this purpose. Using a pigment wet, which is also referred to as foiling, makes the product more intense and gives a metallic finish.
Vanilla Pigment makes a perfect high light shade, if you don't mind the frostiness of it. I typically only wear high light shades that have shimmer in them if I use only matte shades on the rest of the eye, and this is the one I usually turn to.
I also like wearing Vanilla Pigment as a wash of color on my eyelids on simpler makeup days.
Here's some other fantastic uses for Vanilla Pigment:
Mix it in with a nail polish! Adding Vanilla Pigment to a nail polish won't deposit opaque color by any means, but would add a golden sheen to any color polish!

Mix in with your body lotion or facial moisturizer for luminous looking skin. Vanilla Pigment reflects light like you wouldn't believe! This is a great tip for summer to make your skin look glowing.

You can also mix this in with your liquid foundation, to give your face a dewy, luminous glow.

Highlight your cheekbones, the bridge of your nose, and cupid's bow.

Mix Vanilla Pigment in with your lipgloss to add a golden sheen, whether it be a clear gloss or to spice up any shade.

After applying your lipstick, add a touch of Vanilla Pigment to the center of your lips to give the appearance of fuller lips.

Turn a matte blush into a shimmery blush! Apply the matte blush of your choice (my favorite is MAC Powder Blush in Melba, which a pinky peach shade), then take the same brush, swirl it in Vanilla Pigment (don't forget to tap off the excess!) and apply it over the blush. Doing this will eliminate the need for a cheekbone highlight.
Pretty impressive, huh? MAC Vanilla Pigment definitely is a must have, whether you're a makeup artist or just a makeup lover. It can be used in so many different ways and contains so much product to let you do all this and more with it, that is, if it's not spilled on accident (the dreaded pigment fail....).
If you don't already own this product, I think it's definitely worth a shot. It's an essential product for me, especially now that it's summer.
(MAC Vanilla Pigment applied on my cheekbones)
Do you own MAC Vanilla Pigment? What's your favorite way to use it?