Mac Pro Longwear Eyeshadow in Carefree
is a product I've had in my collection ever since it came out with the Style Driven Collection back in September, I believe, and became a part of their permanent range. I absolutely love highlight shades and this one looked very promising to me. I think what really sold me, was MakeupByTiffanyD referring to this as a "candlelit" gold and she just raved about how gorgeous it was. Boy, was she right. I absolutely love it. Recently, I've discovered that it not only works as an eyeshadow, but doubles as an amazing highlight powder!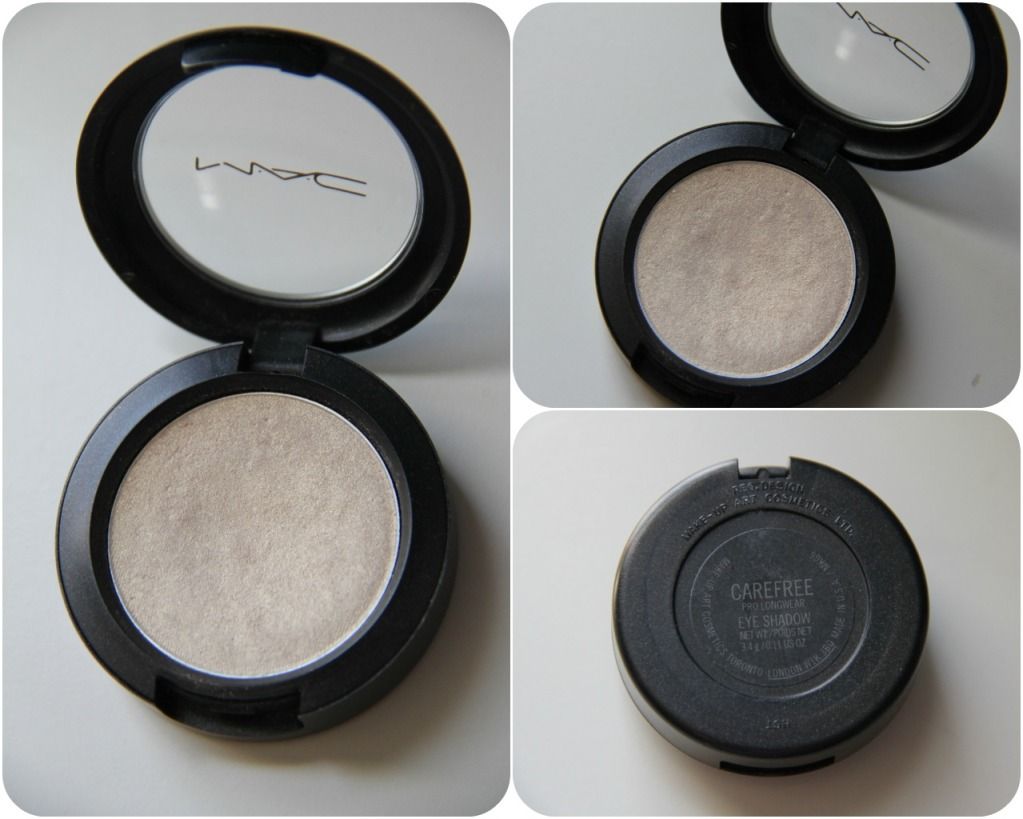 According to
Temptalia
, Pro Longwear eyeshadows are "supposed to wear for eight hours with a "silky, creamy texture" that yields "maximum color impact."
"Carefree" is described by MAC as a "pale white gold."
Temptalia
describes it as a "pale, creamy white gold with a soft, frosty finish."
Carefree won me over from the start with it's pigmentation. Although I do admit that it is slightly powdery to the touch, but not chalky like some eye shadows, particularly highlight shades, can be.
Carefree lives up to it's "longwear" title and lasts a good 8-10 hours on areas like the brow bone and cheekbones, whereas on my lids it will last about 6-8 hours before fading a good amount.
Even though Carefree is described as a ":white gold", it does pull more yellow due to the gold flecks of shimmer running through it. Therefore, it's more of a white gold with yellow gold shimmer.

Classic, black MAC packaging, of course! If you're not familiar with the MAC Pro Longwear line of eyeshadows, you might think that they would be the same size as their regular eyeshadows. On the contrary, they're actually a bit larger. The size of the Pro Longwear Eyeshadows is comparable to the size of a MAC Cream Color Base. Pro Longwear Eyeshadows contain 3.4 grams (0.11 oz) of product compared to a regular MAC eyeshadow that contains 1.5 grams (00.5 oz) of product.

MAC Pro Longwear Eyeshadows are $20 each and can be found at MAC stores/counters, maccosmetics.com, or wherever MAC Cosmetics are sold. As I said earlier, they are part of the permanent range so there should be no trouble finding them.
They are about $6.50 higher in price compared to the regular MAC Eyeshadows, but you are getting 1.9 grams more product, which is the equivalent of getting two MAC Eyeshadows (plus an additional .4 grams) in one Pro Longwear Eyeshadow! Definitely a steal, if you ask me!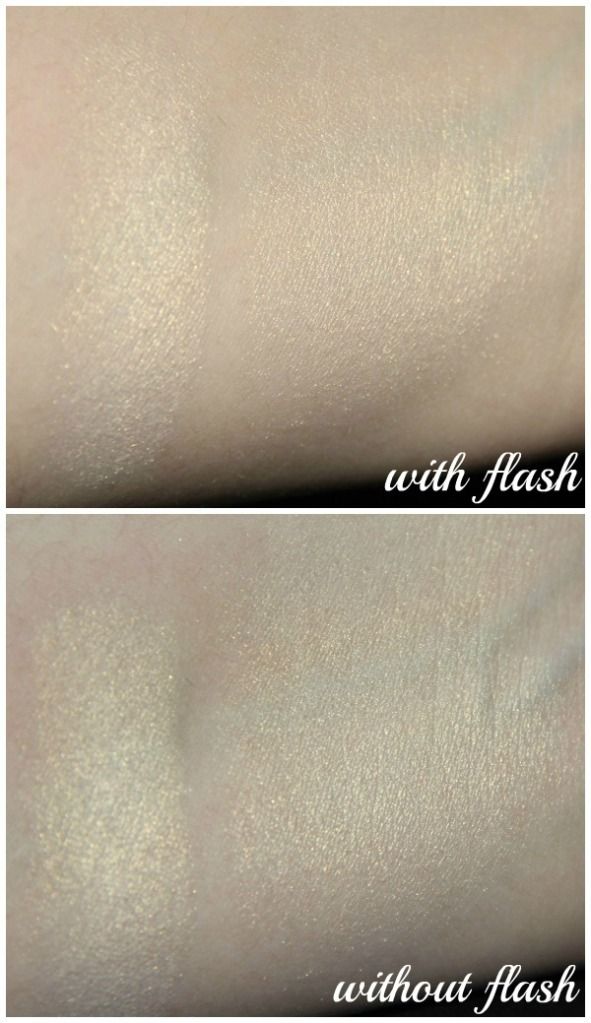 Left: Swatch - Right: Blended Out

If you're a fan of highlight shades, I definitely recommend MAC Pro Longwear Eyeshadow in Carefree. If not for an eyeshadow, for highlighting purposes. I love that it's such a multi-tasking product. On hot summer days when I don't feel like wearing must makeup, I'll apply this on my lid, browbone, and across my cheekbones. One product, three uses- it's so effortless! Not to mention, it gives such that amazing golden glow that we all crave in the summertime. I also think that the Pro Longwear Eyeshadows are a steal. You're getting SO much more product than a regular eyeshadow, not to mention the long wearing properties!
I'm definitely going to be trying out more the MAC Pro Longwear Eyeshadows. Hopefully in the future MAC will make a palette to put these shadows in!
Have you tried any of the MAC Pro Longwear Eyeshadows? What are your thoughts?