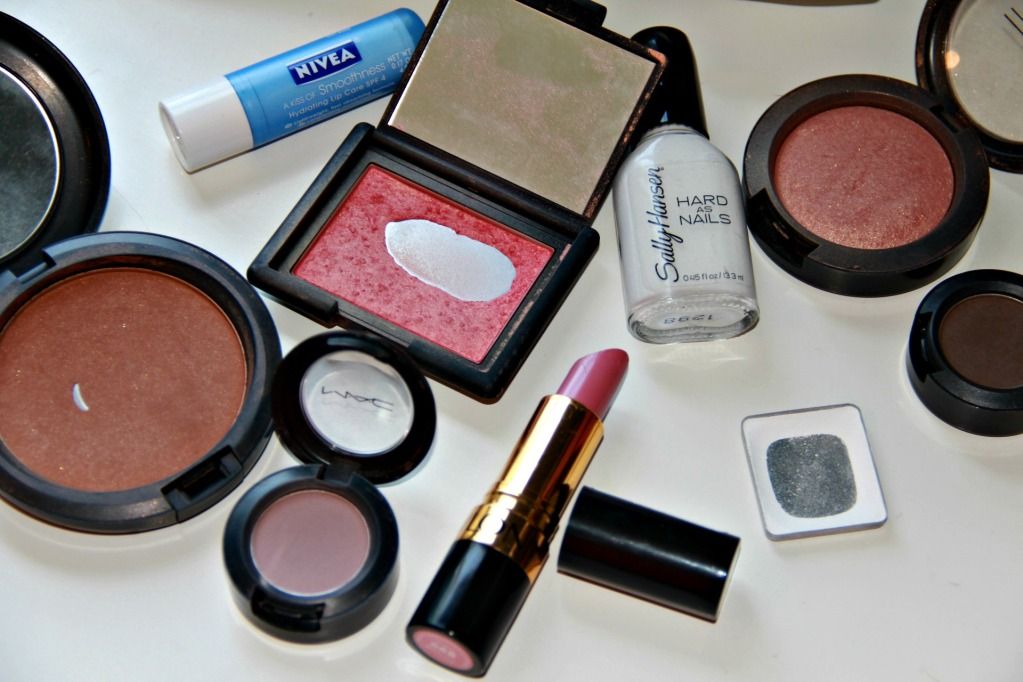 It's that time of the month again! I haven't done a "Favorites" post in a couple months and I do apologize for this month's being late, but if you follow me on
Twitter
you know that my Macbook is broken at the moment. Something made the screen look cracked, without it actually being cracked on the surface and unfortunately, I just can't afford to buy a new one right now. So I apologize in advance for my lack of posts as well, I'll try and update when I can!
Now on to the favorites!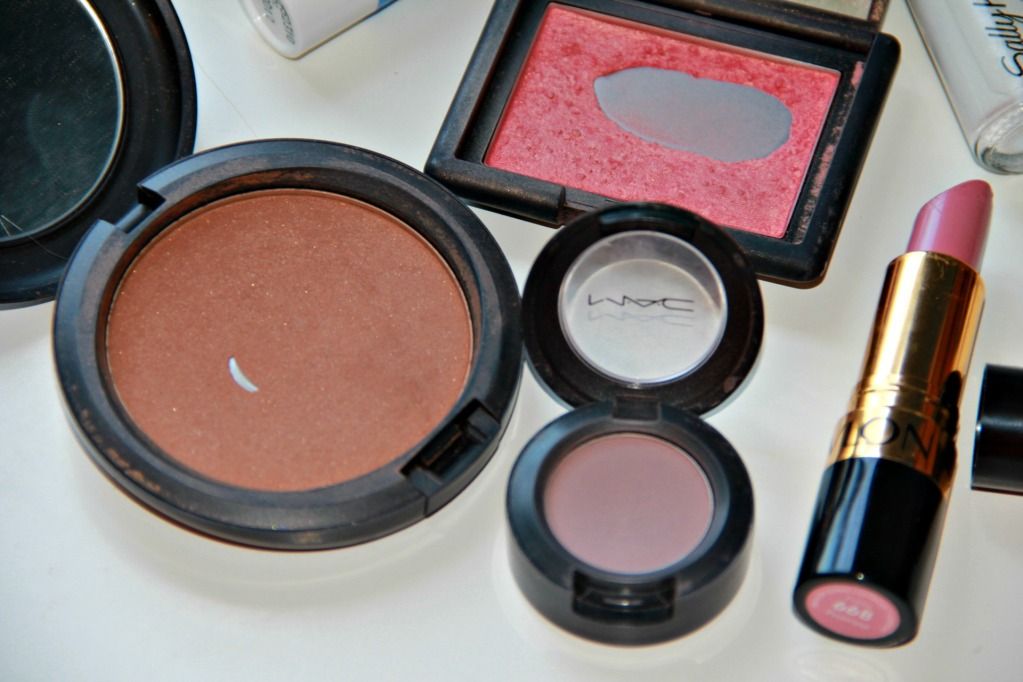 Nivea Kiss Of Smoothness Lip Balm-
Best. Chapstick. Ever. I find myself being really picky about chapstick, especially if it has a smell/taste because I get tired of it really easily. I love this stuff. It literally feels like silk on your lips and there's no scent, which I like. It doesn't really improve your lips after using, but it gives a smooth base to apply underneath lip products or even just on it's own.
MAC Bronzing Powder in Refined Golden-
I'm not sure if it's just mine that is like this or this is how the product is, but I find it very sheer and for that reason, I never really liked this. I decided to give it another go this month and I've really been liking it. Before I was using it as a contour, but it was hardly showing up. The way I use this now is to blend out my contour shade and bronze certain areas of my face (temples, jawline, and down my neck). Using it this way goes hand in hand with the fact that it's not overly pigmented, since I can bronze my entire face without looking like an orange weirdo.
NARS Blush in Orgasm-
This is another product that I didn't initially like. I bought it because of the hype behind it a couple years back. Now I can't even imagine why I didn't like this because I'm absolutely in love with it. It's a beautiful peachy-pink with golden shimmer and it makes my skin look glowy and healthy. It's the perfect summer blush.
MAC Eyeshadow in Quarry-
This is one of my favorite MAC eyeshadows ever. I love using this as a crease shade and a transition shade. It's an almost exact dupe of Urban Decay Tease Eyeshadow, which is in the Naked 2 Palette, but is also sold separately. The color of it's hard to describe- it's like a dusty grayish brown, but it's got a purple tint it. It gives a more smokey look than your usual brown transition shade.
Revlon Super Lustrous Lipstick in Primrose-
Favorite lipstick of the moment and one of my favorite lipsticks of all time. It's such a flattering shade of purple-y pink. It's moisturizing as well, so I can wear it on it's own. Sometimes when I want to make the color stand out more, I'll apply Maybelline's 14 Hour Lipstick in Perpetual Peony, which is a matte, longer lasting version of this lipstick (the color is SO similar) and then I'll apply this lipstick over top of it. Since the Maybelline lipstick is more pigmented, I still get that same color on my lips, but the moisturizing properties of Primrose lipstick at the same time. LOVE. Click
HERE
to see a full review that I did on this lipstick.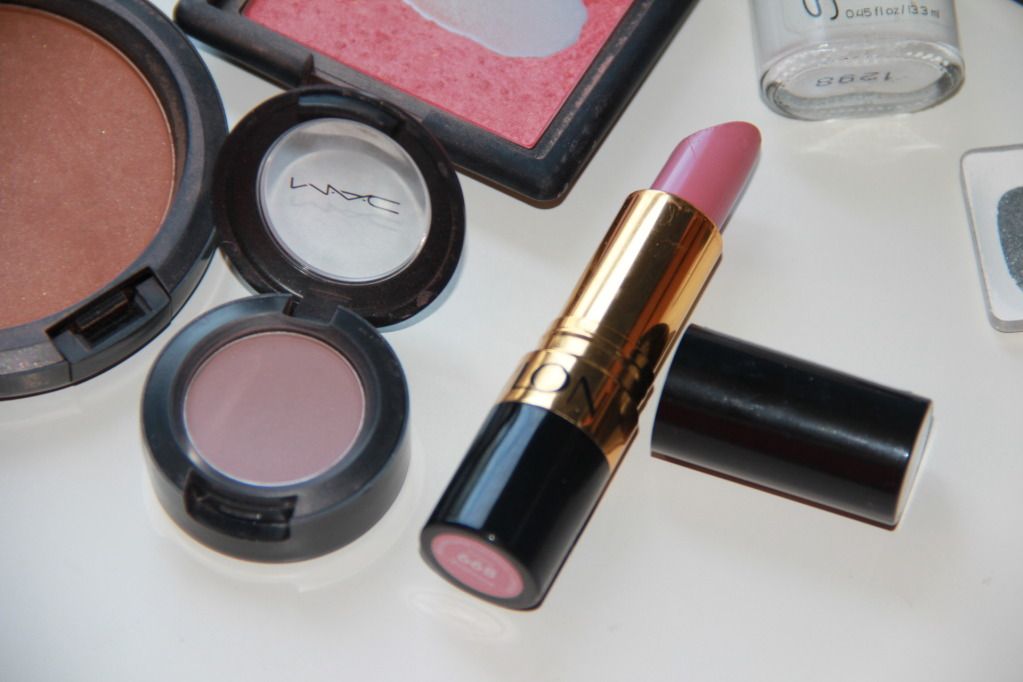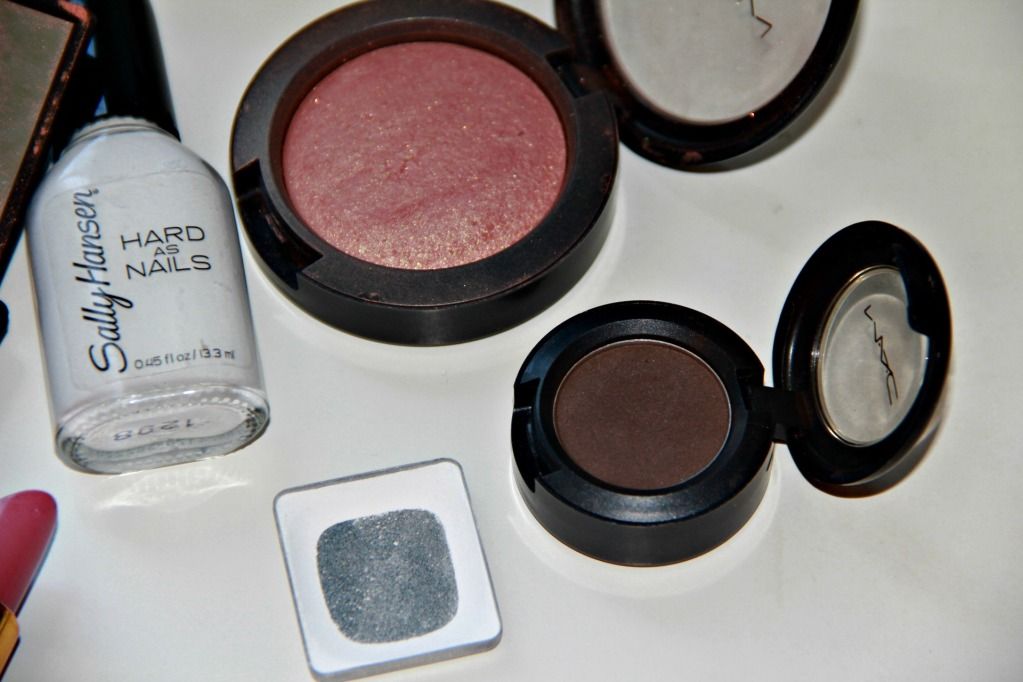 Sally Hansen Hard As Nails (I'll add shade name later)-
I've been really loving white nails for summer. They look amazing against a tan and actually make you look tanner than you really are..on your hands at least.. I really like the applicator of this polish as well. The brush is longer, so I feel like I have more control.
Inglot Eyeshadow in Matte 318-
This is my favorite eyeshadow EVER. I'm sure you guys already know this, since it's always mentioned in my FOTD's/Tutorials. It's an insanely pigmented matte white. I use it as a lid shade everyday. I know it might seem kind of hard to wear such an intense unnatural shade everyday, but it's probably not what you think. When you blend in a crease shade when this is on the lid, it brings down the intensity of it and makes the eye look bright and awake. Since my eyes are brown and I have small, hooded eyes, this eyeshadow really makes them stand out. I couldn't live without this. If you're looking for a matte white shadow, this is your best bet. Please do not waste your money on MAC Gesso- it's about as pigmented as eraser.
MAC Mineralized Blush in Warm Soul-
When I'm not wearing NARS Orgasm, I'm wearing this. This was my go-to blush last summer and I've been reaching for it just the same this summer. It's a peachy-bronze shade that looks amazing with a tan! It's a bit on the shimmery side, but it makes your cheeks look glowy and sun-kissed. If you're an NC25 or above, GET THIS BLUSH. You won't regret it. (Paler/fairer skin tones can still pull this off, don't worry)
MAC Eyeshadow in Brun-
I ran out of my Milani Eyebrow pencil this month and have been using this to fill in my brows. It doesn't give me the more defined brows that I prefer, but gives a softer, more natural look and it matches my brows perfectly because it's kind of an ashy brown. I also love using this shadow to add definition in the crease. Quarry in the crease, with this Brun in the outer crease/outer V is a gorgeous combo.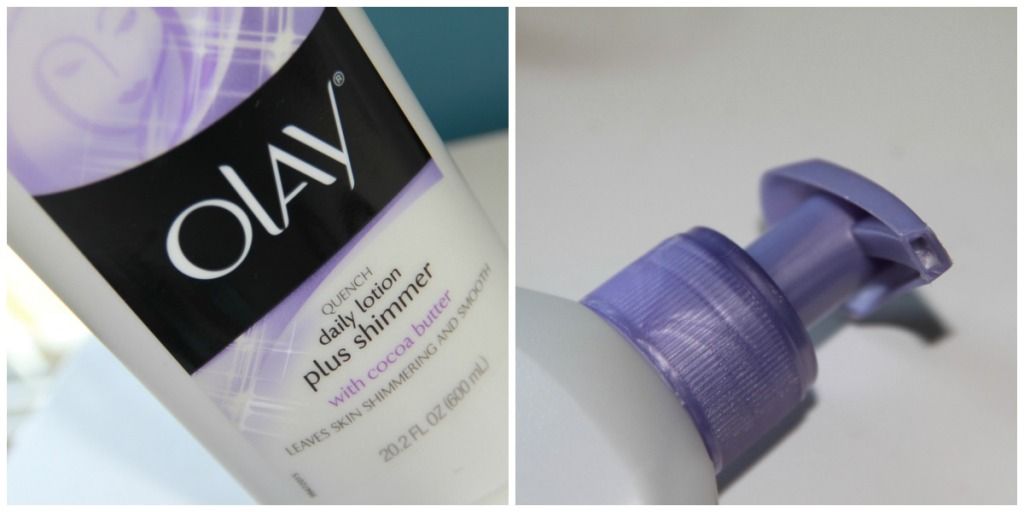 Olay Quench Daily Lotion Plus Shimmer with Cocoa Butter-
I LOVE this stuff. Usually I just use regular cocoa butter (I'm stretchmark prone like you wouldn't believe!), but I decided to get this for 3 reasons: It had cocoa butter, I thought the shimmer would be a nice touch for summer, and because there was an Olay lotion I used to get that smelled AMAZING and was in purple bottle, but I think they may have discontinued it because I haven't found it for years. This is super similar to that, except there really is no smell. The shimmer shows up slightly, but fades away quick. It's barely noticeable, to be honest. This lotion makes my body so silky smooth. HG status, for sure.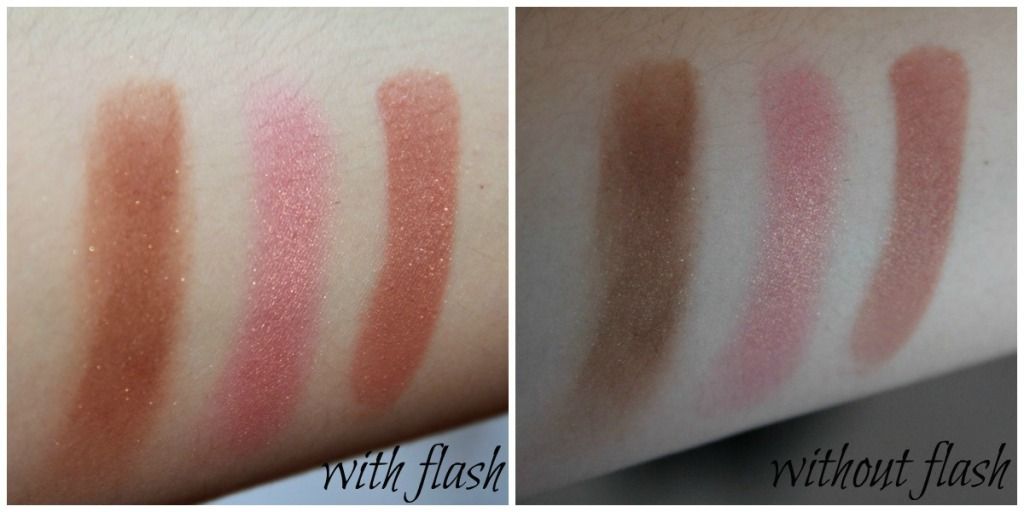 (Left to Right) MAC Refined Golden, NARS Orgasm, MAC Warm Soul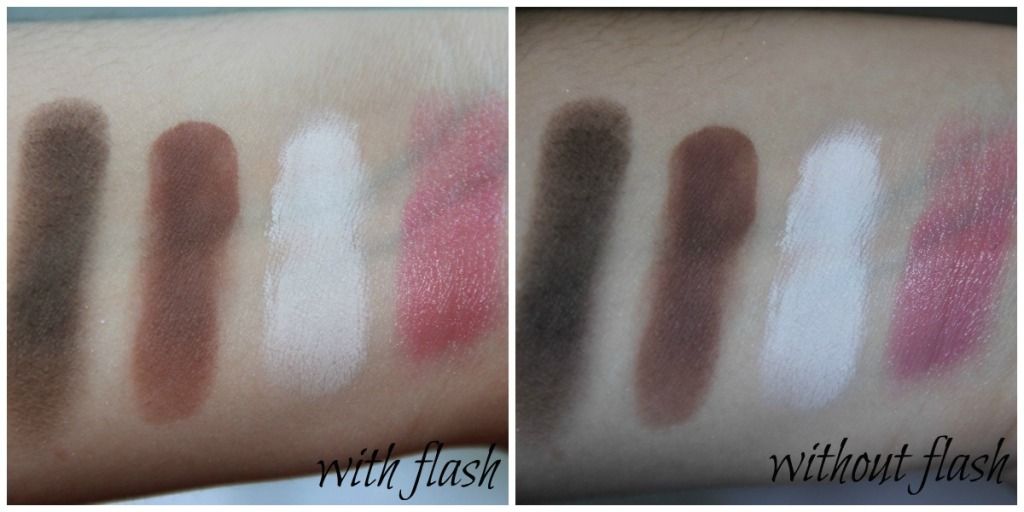 (Left to Right) MAC Brun, MAC Quarry, Inglot 318M, Revlon Primrose