Hey everyone! So I'm super excited to share with you all my new favorite eyebrow product,
the
Makeup Forever Aqua Brow
!
My brows are naturally black and pretty thick, so I chose is shade #25 Ash, as it was the darkest shade they had.
I never would do my brows until this past year and I never realized how much of a difference they make! They are such a crucial part to complete your look because they frame your face and give you a more polished overall appearance. With that being said, if you would have told me a year ago that I'd be using a cream product on my brows, I would have thought you were crazy. It does seem crazy, after all. A cream product on your brows? I know for me it sounded like it would give you fake, drawn on looking brows that looked ridiculously unnatural... The Makeup Forever Aqua Brow is a great reason to confirm the notion that you cannot judge a book by its' cover, because this product creates a defined, but natural looking brow that I just cannot get enough of!
I initially found out about this product after hearing so many great reviews on the Makeup Forever Brow Corrector (shade number 3, to be exact) and wanted to try it myself. When I went to purchase it, I found this little gem. I was curious because I wondered why Makeup Forever would release a product that sounded like virtually the same thing as their already existing, Waterproof Brow Corrector. I haven't tried it myself, but I believe the main differences are the lasting power, as well as the shade range. If you're interested in comparing reviews,
here's a link
to a review that one of my favorite bloggers, Cheryl, did of the Waterproof Brow Corrector!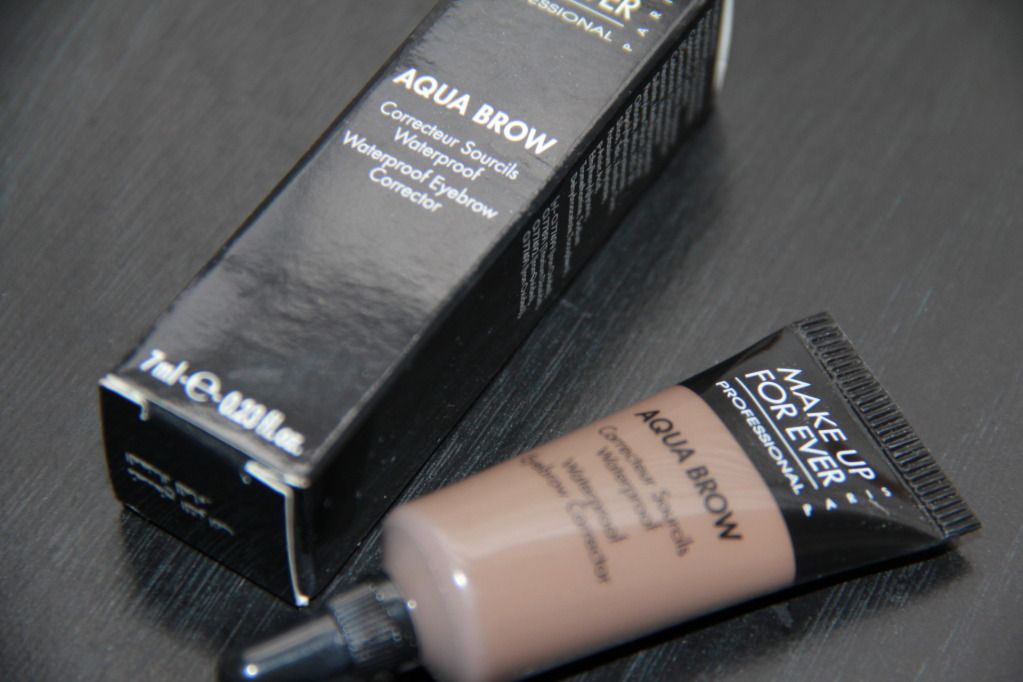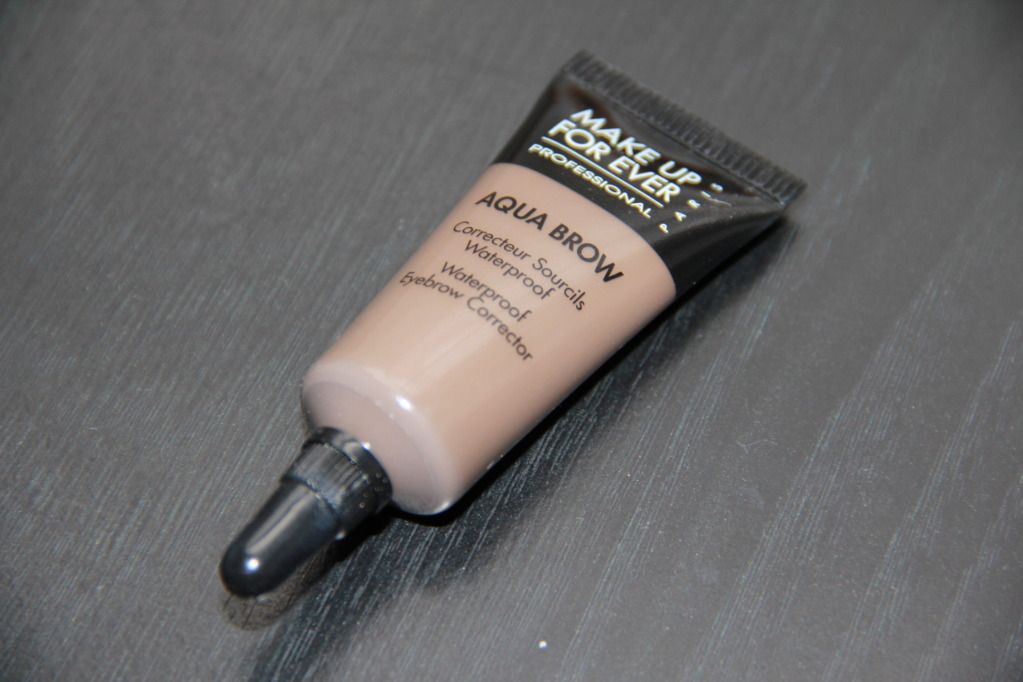 Aqua Brow is a waterproof eyebrow corrector that fills, defines and lengthens brows. Formulated with volatile oil and carnauba wax, its creamy gel texture gives an even, natural result with a long lasting hold. The result remains flawless throughout the day and holds up under all conditions (water, heat, etc).
Aqua brow is available in 7 shades:
#10- Light Blonde
#15- Blonde
#20- Light Brown
#25- Ash
#30- Dark Brown
#35- Taupe
#40- Brown Black
Directions:
Apply a small amount of Corrector on the back of your hand or a spatula.
Use the slanted brush to fill in any sparse areas, then blend for a natural result.
Use the fine brush to make very precise corrections hair by hair, or for the brow tip.
Remove with a waterproof eye make-up remover.
Advice:
Choose a shade lighter than your brows as the product darkens very slightly as it dries.
Brows that are too dark can make the eyes look severe.
To fill in a gap, dot a small amount of product on to the skin with the tip of the slanted brush, then work it outwards using the full width of the brush.

Pro tip: it can also be used with a lash brush to tint gray hair, mustaches and graying sideburns.

The Makeup Forever Aqua Brow has amazing packaging, in my opinion. I'm so glad that they chose to house this in a squeeze tube rather than a gel-liner type jar. This makes it more sanitary and also makes the product last longer since the entire product isn't exposed to air every time you use it and thus drying out the product quicker.
The squeeze tube also makes it very easy to control the amount you want. You can really control how much comes out, so you never end up wasting any product. The best way to go with this is to use a little bit and take more as you go, until you get a feel of how much product you will need for both brows.
The packaging is tinier than I imagined it to be, but you get SO much product inside that little squeeze tube. It contains 0.23 oz of product.
The Aqua Brow has a creamy, gel-like consistency, so a little bit of this stuff goes a very long way. It is intensely pigmented, so this will create opaque coverage on your eyebrows, making it perfect for people who need to fill in empty spaces/gaps because it will give the illusion that you have hair in that area.
I feel like this product is very versatile. You can create very natural looking brows, but you can also give them a more dramatic, sharp look as well. My preference with brows falls somewhere in the middle between natural and dramatic. I like them to be well defined, but not look drawn on like sharpie brows (this term makes me laugh, hehe). This product gives me that happy medium, hence why I have fallen in love with it. Before this, I was going back and forth between the MAC eyeshadows in Brun and Mystery to fill in my brows, but it didn't give me the precise-ness that I needed.
I purchased this from Sephora (not sure where else you can get this) and currently they only have 3 shades available: #10 Light Blonde, #15 Blonde, and #25 Ash. I purchased #25 Ash, since it was the darkest available and my brows are black. Unfortunately, the color was not an exact match. As you can see in the before and after photo (see below), it's about 2-3 shades lighter than my actual brow color. A good rule of thumb for brows has always been to go about 1-2 shades lighter than your natural brow color, so it doesn't bother me that it's lighter. In fact, I've actually noticed that my brows seem too strong for my face and I've been contemplating lightening them up a shade or two, so if I choose to do so, this shade will match perfectly. I still wear it regardless and it still works and looks like a good enough shade match.
*Another thing to keep in mind is that in the before and after photo, it looks like the product is warm-toned and leans red, but it does NOT do that in person. It is a very neutral, ashy brown in person, so that must have been caused my camera settings somehow. So all in all, I'd reccomend #25 Ash for people with medium-dark brows, until you can get your hands on some of the other darker shades. The dark brown shade would probably be a more accurate match for my current natural brow shade, but like I said, I will probably be lightening my brows in the near future.
The lasting power of this stuff is incredible. It doesn't fade at all throughout the day. It looks exactly the same at the end of the day as it does when you first apply it. As far as the waterproof claims go, it truly is waterproof. I love that I can touch my brows and not have to worry about the product smearing or moving. It's also great because brows are one of those things you shouldn't have to reapply throughout the day and you'll never run into that problem with this.

The Aqua Brow retails for $20 at
Sephora.com
. I'm not sure where else you could purchase this.
As I mentioned earlier in the post, you do get 0.23 oz of product. A tube of this would easily last you up to a year, if not longer, because you only need the tiniest amount of product.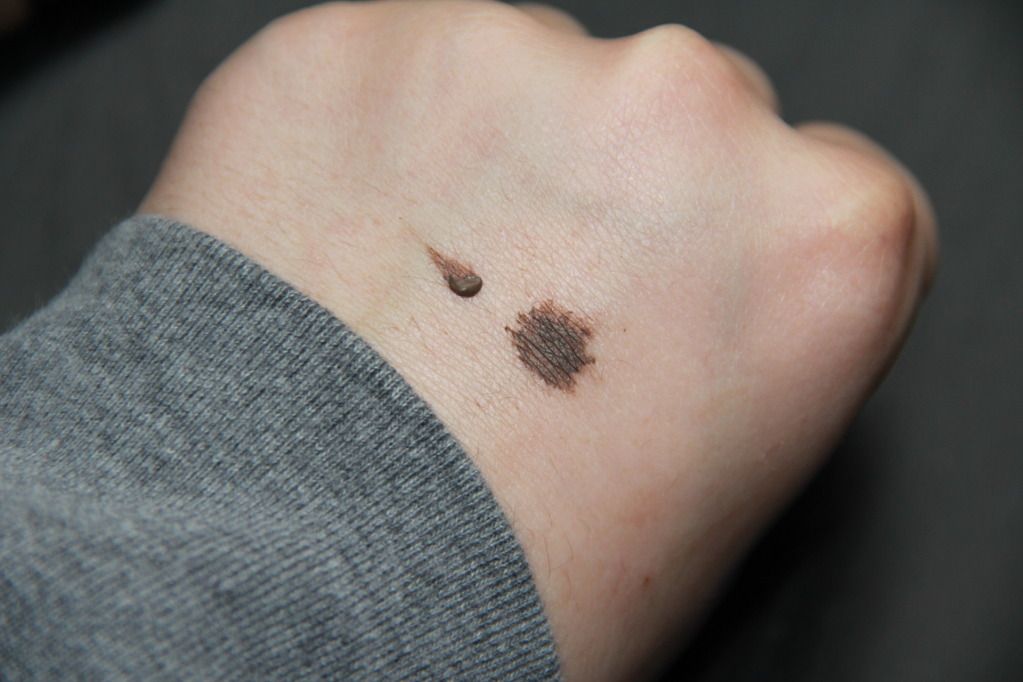 Left:
That's typically how much I would put on my hand for both brows-just to show you how little you really need.
Right:
What it looks like after I'm done using this on my brows.

I am absolutely in love with the Make Up For Ever Aqua Brow. I can easily say it is my Holy Grail Eyebrow product and I can't see myself finding something else that suits my needs better. I've tried brow powders, brow pencils, even another gel-like brow product and nothing compares. I love the fact that they have such a diverse shade range, even though Sephora doesn't carry all 7 shades yet (you might be able to find the other shades somewhere else. If you know of somewhere, please let us know in the comments!) This product would suit so many people, not only because of the extensive shade range, but because you can really change up the look you want to create, depending on the amount of product you use, how you apply it, and also the brush you use. I use a Sephora Angled Brow Brush to apply it. So even if you're a fan of more natural brows, don't be afraid of this just because of the consistency! Natural or dramatic, Aqua Brow can make it happen. So if you're in the market for a new eyebrow product, I definitely recommend this. Next time you're in a Sephora, at least get a sample to try out! Just remember, if you do use this and use the back of your hand as a palette, please remember to wash it off your hand. I can't tell you how embarrassing it is to leave it there and be asked what exactly the brown stain on the back of your hand is... ;)
Have you used the Makeup Forever Aqua Brow? What's your favorite eyebrow product? Let me know in the comments!